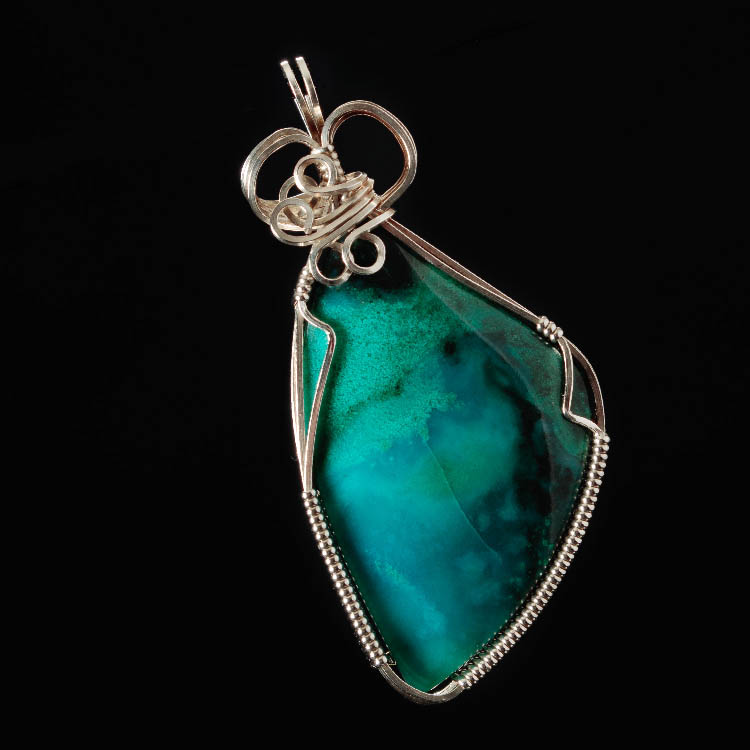 Gem Silica Chryscolla Cabochon
wrapped in Argentium Sterling Silver

This beautiful, handmade, Gem Silica Chryscolla cabochon is wire wrapped in Argentium Sterling Silver wire. This wire sets this stone off wonderfully. With the change of color, within the stone, from left to right, there is great movement throughout. This pendant comes with a sterling silver chain and gift box. This piece measures approximately 2½" from the top of the bail to the bottom of the pendant and the cabochon weighs about 53.5 carats. It is about 1¼" at its widest point. This is a freeform stone that is hand cut and polished by me.
Argentium® Sterling Silver is a patented and trademarked alloy that is at least 92.5% pure silver, just like traditional sterling silver. What makes it different from traditional sterling silver is that a small amount of germanium replaces some of the copper that is usually the other 7.5% of sterling silver. Peter Johns, a professor of silversmithing at Middlesex University in England, invented Argentium® Sterling Silver in 1996.
Argentium® Sterling Silver is highly tarnish-resistant and does not firescale.

Includes 18" Sterling Silver Chain
Free Shipping
$240